Shadow Circus On A Dark And Stormy Night Essays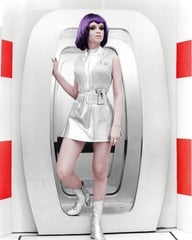 A compelling concept, innovative music embracing a 70s texture, complex signatures and well executed vocals.
The latest Shadow Circus album "On A Dark and Stormy Night" is a concept album with some virtuoso musicianship and incredibly infectious melodies along with some of the more enthralling themes in prog. The album is based heavily on the famous Newberry Award-winning science fiction fantasy novel of Madeleine L'Engle, "A Wrinkle in Time", coinciding with the 50th anniversary of the original publication. The musicians are simply brilliant including the sweeping keyboard signatures of the incomparable David Silver, the astonishing guitar work and keyboards of John Fontana, and the rhythm machine of Matt Masek's bass, and Jason Brower's drums. The icing on the cake are the effective vocals of David Bobick, always smooth and easy on the ears so that we can grasp the heavy conceptual content. All of the tracks merge together seamlessly encompassing one long conceptual album.
'Overture' kicks things off with an atmospheric melodic soundscape and gives the album a majestic quality with cinematic orchestration. An overture always signifies the start of greatness , and this track certainly features some incredible musicianship with Matt Masek on cello, and John Fontana on the intro orchestral keyboards. Rain falls heavily and thunder rolls across the heavens. An ominous low drone is heard, the symbol of impending doom, which may be the presence of IT and The Red-Eyed Man ready to strike. The pastoral chimes and strings have a magical fairytale quality. The opening cello phrase may be familiar to those who have heard the previous album "Whispers and Screams" as it is lifted from the "...Then in July, the Thunder Came". It is a nice way to bookend or connect the two albums that seems to flow together well. The uplifting fast tempo melody is bright and exuberant, reminding me of the effervescent melodic style of Premiata Forneri Marconi or Transatlantic. The spacey tones at the end along with the twin guitar phrases are simply magical.
'Daddys Gone' is next which continues the tale where the Murray children are devastated over the disappearance of their father who went missing after an unsuccessful scientific experiment. This experiment is later discovered to involve a Tesseract, that we hear about later on the album. This is a ballad that portrays how the children feel; their sense of emptiness and loss is conveyed, and it is specifically taken from the point of view of the main heroine, Meg. This song was on the recent maxi single with 'Rise'. 'Daddy's Home' is a ballad with a stirring lyrical content. The piano driven song is quiet and emotively sung by David Bobick, "I look to the skies and I feel your love, I don't know why but I feel it above, Just another chance to see you again, They say there's no hope can't I just pretend, So give me a sign when you're coming back home." The lead break is soaring with a David Gilmour flavour, executed with huge string bends and sustain by the extraordinary John Fontana.
'Whosit, Whatsit And Which' is where the album really starts to take off for me, with that grandiose Hammond organ shimmer and hypnotic guitar figure, along with excellent vocal delivery. There is a whimsical Genesis like lyrical content and some wonderful Pink Floydian female backing vocals. The chorus is infectious and memorable. The way it switches signature is awesome and then we are treated to staccato Hammond and a fractured tempo towards the end. The song is based on the three "good witches" from "A Wrinkle in Time" that are supernaturally powerful and are wise ancient creatures with a preternatural state of being, appearing as humans but having malevolent potency when it comes to the magick arts.
'Make Way For The Big Show' is next, with a grand piano entrance. It launches into Hammond glory and then some sparkling crystal clear vocals and ghostly backing vox. The title is a quote from the character Charles Wallace, a gifted boy who is regarded as an outcast by his peers. The character is a victim of bullying , and the vicious cycle of abuse takes form in his anger towards others. Thus he becomes a sadistic man with a dark side, making him particularly vulnerable to the temptations of the Red-Eyed Man and IT that appear later in the story. The vocals by David Bobick are well executed as are his lyrics; "To whom much is given much is expected in the end, do you see them do you hear them, those voices in your head, they call to you because the darkness kills the light, come on and see what's happening to me?". The ending has a blistering lead solo, a flourish of cascading piano and sweeping synths drawing us into the drama of the themes. I like how the theme will resonate with those who are bullied.
'Tesseract' follows, an important term of the novel referring to a method of travel through time and space. This song is far more heavier than other songs, with a crunching distorted riff and blazing lead guitar work. The metal textures work well as a departure from the symphonic washes previously. I think it helps to have a bit of vivacious fast paced rock to break things up. The pace is considerably frenetic and the Hammond competes beautifully with the grinding axework. John Fontana is outstanding on this track and it really showcases his talents. The riffs are towering with passion and white hot aggression, and as an instrumental this is simply superb; one of my favourite tracks on the album.
'Uriel' follows, the name of a planet that is created with incredible heavenly beauty, a genuine utopian paradise. It opens with a dreamscape of gentle piano and strings representing awakening on the planet as a hailstorm of flower petals float down. The music builds into a gallop and signifies the feeling of riding on the backs of winged centaurs over mountains and valleys of immeasurable beauty. The lyrics attempt to capture this sensation; as it speaks of a "sanctuary" where one may "smell the flowers in the air", and gaze "in your bright blue eyes, take me with you, my Uriel", sings the protagonist and he promises to "keep you safe within your warm embrace, Uriel, with your oceans of crystal moons" soaring "to the tops of the world". It has an environmental theme in many ways giving a planet the personification of a protective mother but it also alludes to the type of scapes envisioned in "Avatar".
Following this, a presence of darkness enters as the ominous caverns of 'Camazotz' springs into view. A pulsating bassline locks in and then some cool guitar riffs. The vocals are processed and more forced; "I'll take care of you, I'll be there for you, I won't lie to you", lyrics sung from the point of view of the Red-Eyed Man. The promise of "no more bullies in the schoolyard to push you around, don't you think it's time that they were scared of you?" is too irresistible for Charles so he succumbs to the malevolent "IT". This leads to a mindbending Hammond solo over an irregular guitar riff. This is an astonishing song, and again simply jumps out as one of the highlights.
'Ixchel' follows, referring in the novel as a place of healing where the main protagonists take refuge following the horrific sense of hopelessness and abandonment in Camazotz. It opens with dreamy Celtic acoustics at the hand of Matt Masek on nylon string guitar, there are some violining guitar sweeps over swathes of synths. This is absolutely beautiful and moves into some captivating piano sprinkled over. The atmospheric melancholia is compelling radiating with Roo Brower's angelic vocals, and achingly haunting melodies. This lulls me into a dream everytime I hear it, like the calm before the storm, and it never fails me to exude a tranquil temperateness.
It builds and segues into heavy rocker 'Battle for Charles Wallace' with staccato guitar and Hammond stabs. The riff chugs along until it locks into a ruptured tempo. Again there is a heavier guitar attack and glorious Hammond quivers and then spacey synths. The tale has taken on an exciting climactic quality, as things come to ahead. After taking in a bit of a "spa day" on Ixchel, Meg returns to Camazotz with a renewed zeal and she is determined to rescue Charles Wallace from the clutches of the evil IT and the Red-Eyed Man. After a while there is a break in the musical mayhem and an acapella passage returns to the melody of 'Daddy's Gone' and 'Overture', bookending this dramatically. "Don't you ever leave, ever again", warns the protagonist and then the music transmogrifies into uplifting lead guitar phrases that ascend and descend over a wash of synth and a measured rhythm. It culminates in a glorious climax and the tale is over. Or is it?
Overall, this is an astonishing concept album as good, if not better, than the previous "Whispers and Screams"; all killer and no filler. There is so much to recommend this with its deep explorations into symphonic atmospheres and heavier distorted diversions. It is a real grower with very catchy melodies and some gorgeous passages of symphonic elegance. The Pink Floyd qualities are an exceptional touch and it features some blistering lead guitar work and stunning splashes of Hammond that always resonate with me. I have no complaints at all, and in fact have no hesitation to rate this as a masterpiece of Symphonic Prog. It encompasses all that I love in the genre; a compelling concept, with innovative music embracing a 70s texture that still maintains a current style, extraordinary melodic musicianship, complex signatures and structures, and well executed vocals. Shadow Circus are marking their territory with their extraordinary vision, and have created something very special with "On A Dark and Stormy Night".
Modern Stories : Home Alone
Let us enjoy reading this one of Modern Stories of Home Alone .

It was a dark and stormy night.

I was alone at home and about to go to bed, when I saw a scary shadow figure at my window.

"Who's there" I shouted.

Suddenly there was a flash of lightning followed by thundershower.

I saw a lion's face followed by a scary thunderous roar at the window. It looked like the lion from the local circus that had been announced missing on the television news channel. I felt very scared. I ran to my bed and pulled my blanket over my head. I started to shout for my parents but there was no reply. Then I remembered they were at a late night party.

I peeped out of my blanket but it was too dark to see anything. Then I heard footsteps.

They were getting louder and louder. Soon the footsteps died off.

The grand father clock struck 12. I went back to bed and tried to sleep, but couldn't. I felt too frightened. I sat up my mind full of scary thoughts. After some time passed, finally I fell asleep.

I woke up only after eight in the morning and switched on the TV news. I was excited to see the lion was already trapped in the wee hours of the morning by the ring master of the circus. I felt very much relieved after the news.

Later I narrated the whole incident to my parents.

They were dumb shocked and decided in future not to leave me alone at home during night.


The Other Stories Index
The Short Stories Index
From Home Alone to HOME PAGE